An evening of music and story
Only 50 tickets available!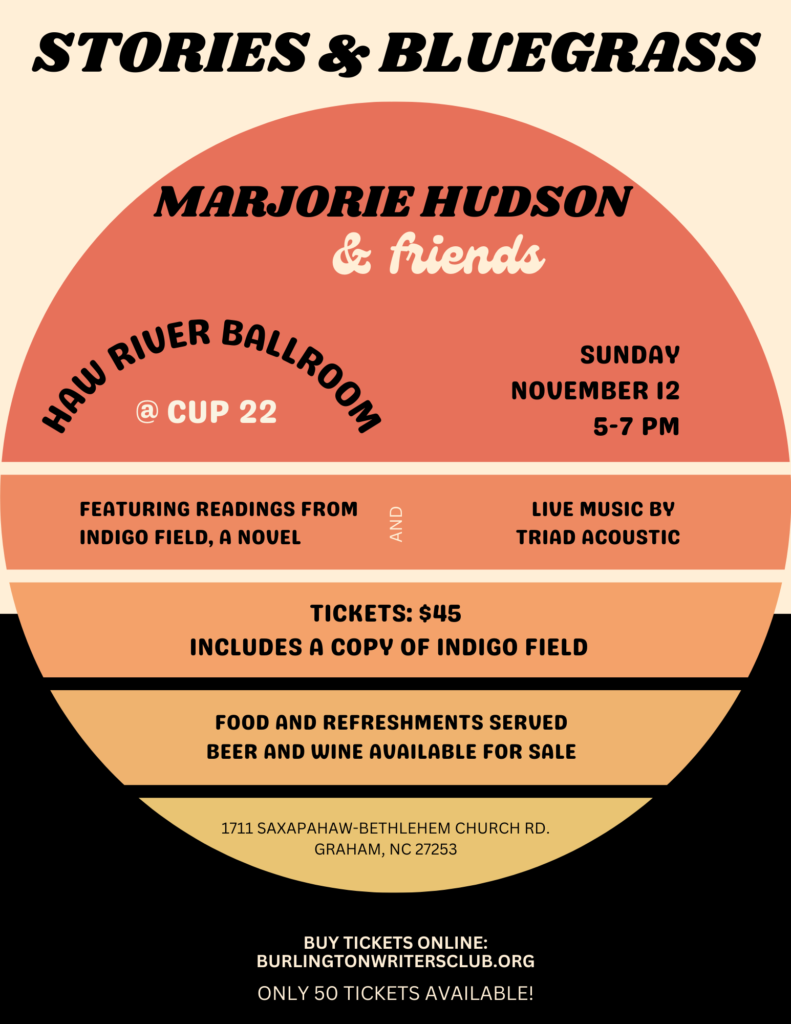 Event details
Tickets are $45 — What's included?
A copy of Indigo Field, award-winning author Marjorie Hudson's first novel
Marjorie reading from Indigo Field interspersed with music from Greensboro-based Triad Acoustics
Food and refreshments (beer and wine available for sale)
Community and revelry for the arts
A few things about your support:
Your ticket is tax deductible
Payment through PayPal: choose between 1, 2 or 4 tickets. For all other amounts, or to buy a ticket and throw in extra support, chose the Other button
Bring payment confirmation to show at the door
Please help out by covering the transaction fees
If you prefer to pay by check or cash, email Domanie Spencer at bwctreasurernc@gmail.com.
Can't make it but still want to donate, visit our Donation page.
How your support helps
The purpose of the Burlington Writers Club is to:
support local writers
build community among artists, arts organizations, and Alamance residents
serve the literary needs of the greater community, including the county's teachers and students
Through education and outreach, we work to advance the craft of writers in all stages of development and inspire Alamance residents to value the power of the written word to build communication skills, to express the human story, and to heal.
We envision writing as a transformative, valued, and integral part of our community.