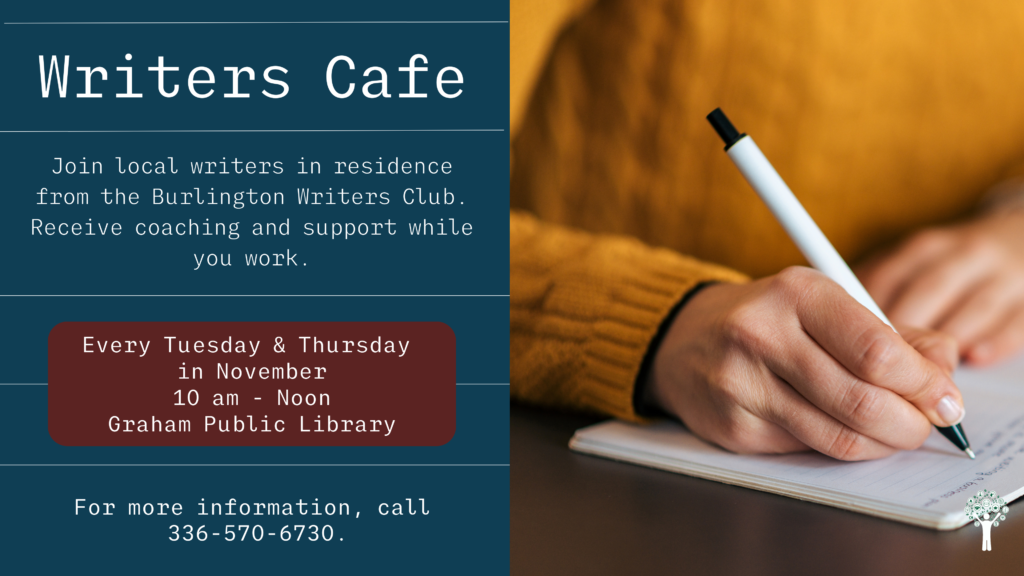 Get inspired this NaNoWriMo (National Novel Writing Month) with the Burlington Writers Club!
Where: Graham Public Library, 211 S Main St, Graham, NC 27253
When: Every Tuesday & Thursday in November (except Thanksgiving) from 10am – noon
You don't have to work on a novel to participate. The goal is to create space for yourself to write!
But, if you would like to challenge yourself to the 50,000 word novel, sign up on the NaNoWriMo website to track your progress. Here are the rules:
Writing starts at 12:00: a.m. on November 1 and ends 11:59:59 p.m. on November 30, local time.
No one is allowed to start early and the challenge finishes exactly 30 days from that start point.
Novels must reach a minimum of 50,000 words before the end of November in order to win. These words can either be a complete novel of 50,000 words or the first 50,000 words of a novel to be completed later.
Planning and extensive notes are permitted, but no material written before the November 1 start date can go into the body of the novel.
Participants' novels can be on any theme, genre of fiction, and language. Everything from fanfiction, which uses trademarked characters, to novels in poem format, and metafiction is allowed; according to the website's FAQ, "If you believe you're writing a novel, we believe you're writing a novel too."
According to Wikipedia (where we snagged the above rules), nearly 400 NaNoWriMo novels have been traditionally published.
We hope to see you!