For Immediate Release:
The Burlington Writers Club annually sponsors the Student Writing Contest to recognize exceptional student writers in Alamance County. The contest is made possible in part by a grant through the North Carolina Arts Council, a division of the Department of Cultural Resources, and Alamance Arts. Due to the safety precautions in place for the coronavirus, there was no award ceremony to honor the 2021 winners. Students received their certificates in the mail. A total of 12 schools submitted 208 entries from grades 3-12; 162 private school, 6 home school, 1 charter school, and 39 public school entries. Contest entries broken down by category: elementary school poetry, 23; middle school poetry, 40; high school poetry, 10; elementary school fiction, 71; middle school fiction, 55; high school fiction, 9.
Elementary School Winners
Pictured From left to right: Lilianne Hunter, Eleni Kohl, Asa McDorman, Xavier VanWeest, Dayne, Wheeler.
Elementary Fiction:
1st place: Lilianne Hunter
2nd place: Eleni Kohl
3rd place: Asa McDorman
Honorable Mention: Xavier VanWeest
Elementary Poetry:
1st place: Kendyl Castor
2nd place: Addyson Parnell
3rd place: Dayne Wheeler
Honorable Mention: Palin Hubbard
---
Middle School Winners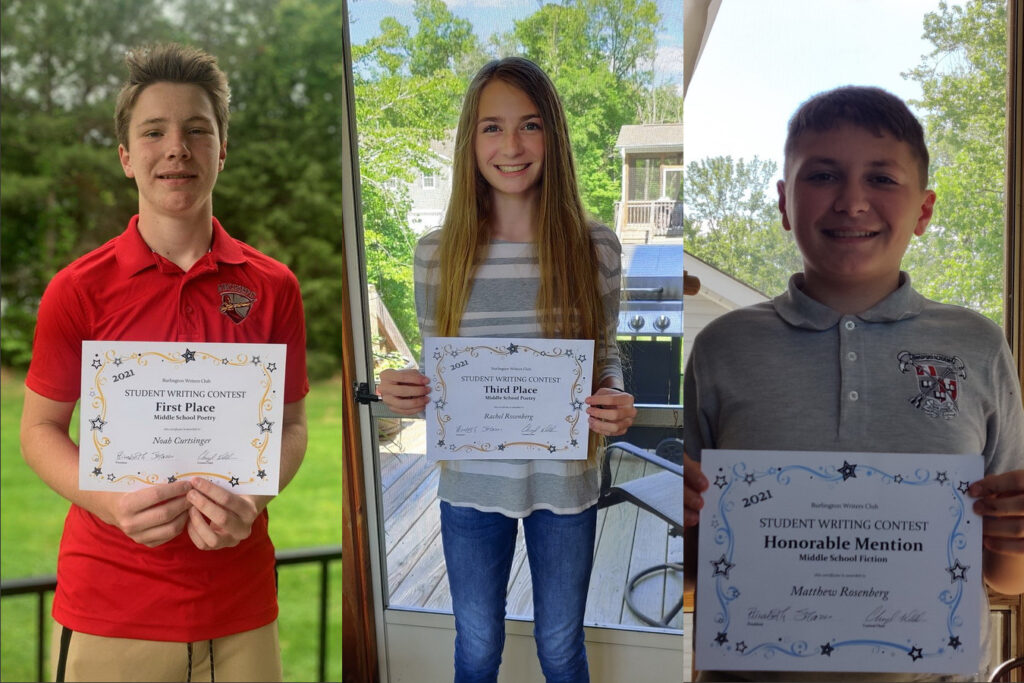 Pictured from left to right: Noah Curtsinger, Rachel Rosenberg, Matthew Rosenberg
Middle School Fiction:
1st place: Daisy Thrasher
2nd place: Ethan Otero
3rd place: Timothy Klein
Honorable Mention: Matthew Rosenberg
Middle School Poetry:
1st place: Noah Curtsinger
2nd place: Daisy Thrasher
3rd place: Rachel Rosenberg
Honorable Mention: Will Jones
---
High School Winners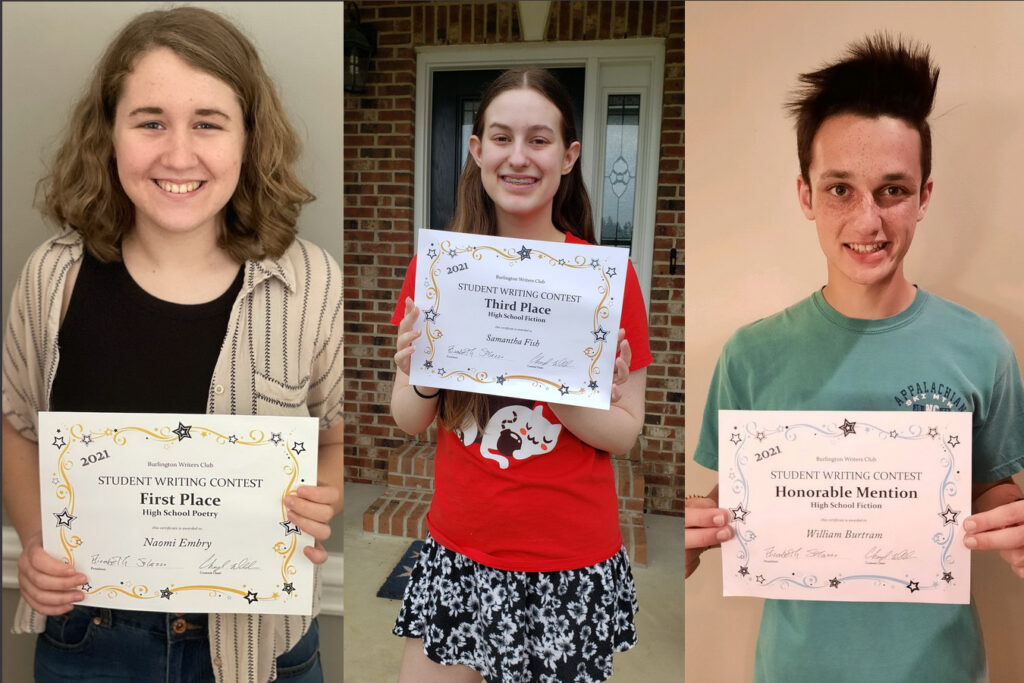 Pictured from left to right: Naomi Embry, Samantha Fish, William Burtram.
High School Fiction:
1st place: Landon Fairchild
2nd place: Kennedy Joyce
3rd place: Samantha Fish
Honorable Mention: William Burtram
High School Poetry:
1st place: Naomi Embry
2nd place: Julia Randall
3rd place: Giobann Garrison
Honorable Mention: Trey Horton